9/23/2020 3:23:38 PM
Click the link below to access the webinar for this topic:
Click the link below to Join our Private Facebook Group: Web & Social Marketing for Advaia Clients:
Signature Digital Media Banners
Banners that you can add through your Content Management System.
Signature offers banner ads for select suppliers, promotions and other travel topics that you can use and link to a specific landing page associated with the supplier promotion. These can easily be accessed on SigNet by going to Marketing >> Digital Media Toolkit.
Click on the title here to access Signature's Digital Media Banner instructions:
You will be selecting the "Website" banner option. There are two sizes available. Pick the one the is at least or slightly larger than your CMS indicates. Do not select a banner that is smaller than your CMS dimensions or it will show up distorted on your site.
When you choose your banner, you will want to save it to your computer then load it into your banner library. Also open the "Landing Page" link for the promotion as this will become the link for your banner in the CMS.
Your Banner CMS allows for banners to be added that are already pre-populated with the text and call to action. Therefore, you will leave all these fields blank. Once you have uploaded the banner into your CMS library you can then determine the location (spots 1-5) where the banner will display and link. Once you are completed please check the banner and link on your live web site.
It's as easy as 1, 2, 3!
Go to SigNet, Marketing >> Digital Media Toolkit. Select your banner, open the banner link and save the banner to your local device.
Open the Landing page link and leave that window open.
Open your CMS, upload the banner to your library through "BANNER" menu on your left .
Note that there are two types of BANNER functions. Platinum clients have 5 banners and a banner library, see screenshot below. Independent Agents have 1 BANNER ad that can be displayed on the site, see screenshot below.
Make sure all fields are blank.
Copy the "Landing Page" link from the open Signature page and paste this in the Link/URL line.
Have the banner open in a New Window and then click UPDATE BANNER or SAVE CHANGES button depending on the CMS that you have.
Make sure that you test the banner(s) on your live web site.
SCREENSHOTS
Platinum Clients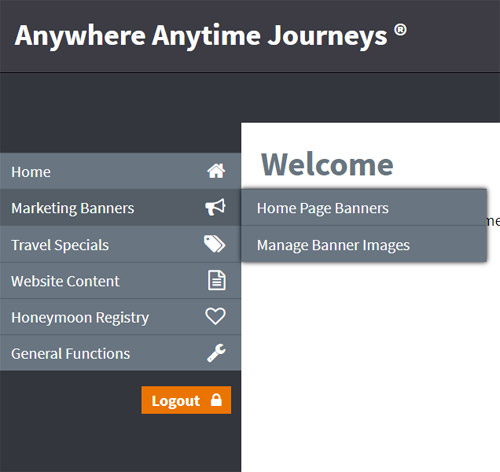 Independent Agents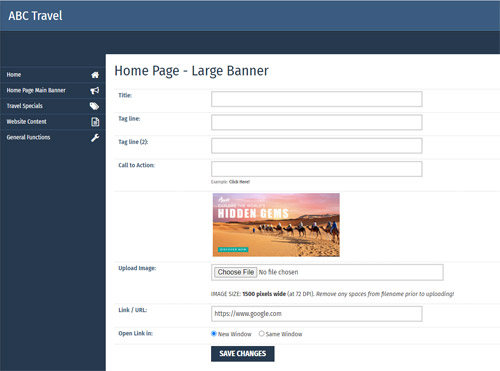 Posting Banners on Social Media Platforms
You can also promote the same promotion on your Facebook and Instagram pages. Just follow the instructions provided by Signature.
Social Media Tools for Facebook Marketing
Signature also offers a wide array of tools to assist you in
Signature offers a wide array of tools to assist you in promoting content on Face Book, Twitter or other social media. "Promote" or "Share" elements are available on most consumer content including:
Digital Media Banners
Cruise and Land Offers
Signature Hotel Program
Microsites
E-marketing Campaigns
The Travel Experience
CLICK HERE for printable PDF
What can I promote on Facebook and Twitter via SigNet?
Signature has a variety of content that can be pushed to your Facebook and Twitter pages very easily!
Your best practice is to plan out a marketing strategy and then determine what you can push over the course of a week from SigNet to your social media accounts.
What can be promoted
Cruise and Land Offers
Signature Hotels & Resorts
Signature Micro-sites:

Cruise
Destinations
Culinary
River Cruises
Family
Groups
Alaska
Mexico
Hawaii
Family
Celebrations
Adventure

E-marketing Campaigns
The Travel Magazine Online
Once you access any of these Signature areas in SigNet you will then see the Facebook and Twitter icons (Promote Facebook, Tweet this). For Cruise and Vacation offers you will see the Social and Tweet commands on the top right of the results.
When promoting an offer you have the ability to change the title, description and if you want a thumbnail and your agency branding that is already set-up in your agency graphics. Once you have created the promotion you will be given a social media link for both Twitter and Facebook. Choose the one that works or both and drop the URL into your Facebook status or Twitter feed.
Whatever the Signature promotion or source, first look for the Facebook and Twitter icons which are quick access to the above.