PDF Upload Specials
On the left menu of your Admin Panel you will see a link labeled as "PDF Specials". If you click on this link you will be brought to a page that lists all PDF Specials existing in your database.
This type of special allows you to take a PDF file, and load it onto the server so that your clients can be access through your web site.
This function is great to use for color mailings that you have sent out to your clients. When your flyers/mailings are created, ask your artist to save you a copy as a PDF. You can also create offers in Word and then convert them into a PDF format.
Note that converting files to PDF format might require additional software on your local work station. Typical software can be found online for a reasonable price or by purchasing the software from your local Office Supply or Computer store. Your travel suppliers can also supply you with custom PDF pages to use that include your agency contact information and some even have online custom tools. Contact your Travel Supplier directly for these services.
Add a PDF Upload Special
When using this function you will need to have created your PDF or Word file in advance. You must confirm that it is exactly how you want it to display on your web site. This file will need to be saved to your computer. We recommend creating a work folder on your Desktop to save these files so that they are accessible. NOTE: It is also recommended that file name of the offer you are going to upload does not contain any spaces " ", dashes "-" or underscores "_"!
The file name should read africansafari.pdf not african safari.pdf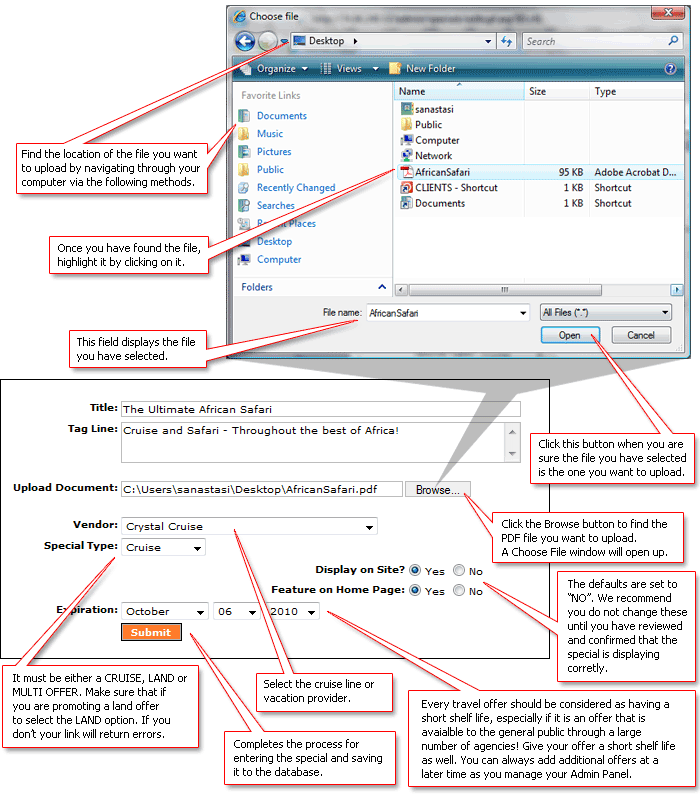 Once you have submitted your special you will be redirected to the page that lists all specials. To test your uploaded file, locate the special you just added and click on the edit button. On the edit page, you will see a link labeled as:
Test / Download File: + filename.pdf
Edit a PDF Upload Special
Editing a PDF Upload Special functions the same way as adding it with the exception that the information is already populated in the fields. To edit a signature special, make your changes and hit the Submit button.
Delete a PDF Upload Special
To remove a PDF Upload Special, click on the "Delete" command. You will be prompted to confirm the deletion process. You will be brought to a page that displays the special you are about to delete along with a message that states:
Are you sure you want to delete this special?
If you want to permanently remove the special, click on the link next to the warning message labeled as "Yes, Delete!" Your specials will be removed from the database.